The Mesh Master deck of cards...
Learn how simple technology can make every day life easier.
This is the biggest opportunity for the electrical industry! Join us on a journey to see how The Powermesh family of connected electrical products can provide solutions to 100's of electrical problems. Each week we will release more "tricks" below.
Are you receiving our emails? If not, now is a great time to
opt-in
, and we will keep you up to date!
Click here to opt-in now.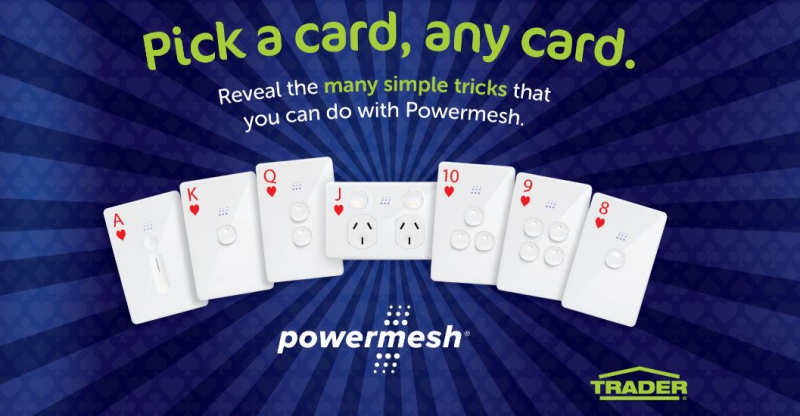 Click the cards below to view each trick as we release weekly.
Each "trick" shows a product benefit represented by a playing card.
Click here to view all
52 Mesh Master Cards
.
---
Watch the latest "tricks" below.
Each week we will release more videos to help you with ideas on how you could use Powermesh in your, or your customers' home or business.
Want the garage lights turned off after you leave?
Do you come home to a dark house?
Need something from the shed tonight?
Want your garden lights to turn on after sunset?
Do you always forget to turn things off?
How many different apps does it take to control your home?
Where would you like another switch?
Can I control my things from longer distances?
Coming home with your hands full?
​Too much gaming and not enough homework?
​Can I have more than one Powermesh location?
​Control it anyway you like.
​It's not complicated!
​Have another fridge just for entertaining?
​Scared of the dark? Make bedtime a breeze every night.
Voice control for anything.
​Is that the sound of running water?
​Control things from anywhere...
​How much power is it using & what's it costing?
​Want to lock your Power Points from being used?
​ Difficult to reach that Power Point?
​Can you adjust the fan speed from the comfort of the couch?
What's the perfect fan speed for you?
"Hey kids, turn the lights off!"
Whose turn is it to turn off the lights?
Stay tuned for more videos every week!
For more information on Powermesh, head to
zimi.life
If you want Powermesh installed in your home or office, contact your local licensed electrician.
For electricians, Powermesh is available through your electrical wholesaler or at
shop.zimi.life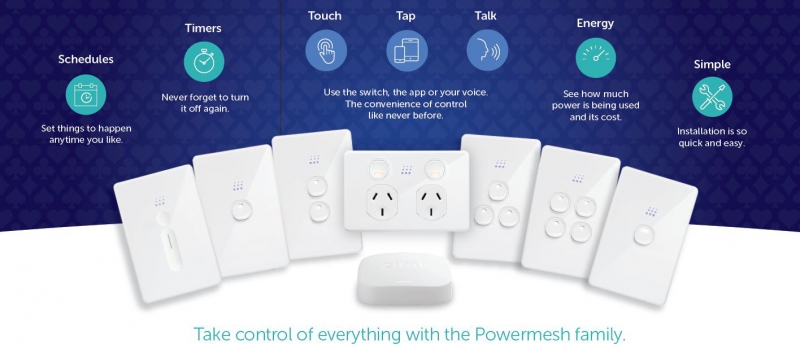 Send us a note to find out more so we can support your business
FLEXIBILITY, PASSION, PARTNERSHIP with the Gerard Family
Testimonials
As the company owner I have insisted we use Clipsal from day one, as I have always opted for quality equipment. I noticed your Trader products not long ago, and reluctantly broke the habit to try a box of your Puma double GPO's. Since then I have now ordered and installed a number of your trade packs in our housing development work. I have installed your products in our high end residential jobs, including your new dimmers, and am looking forward to trying out your buffalo range with our industrial clients.
From a tradesmans point of view your products are second to none, you have fixed any minor issues your competitors still hadn't, you have listened to the market and created something we have all been asking for. Fantastic!
We have also had clients commenting on how impressive the dimmers are. I am pleased to say you have earned our business and our stock is now Trader!
I hope the feedback is welcomed, and please keep doing what you guys are doing.
Jarryd Schubach
JCS Electrical

Finally someone's prepared to take on board the needs/wants of the contractors. Trader lead the way with new design making the humble 'surface socket' easier and faster to use.
The Trader brand has been a real bonus to the electrical field. Especially, can I highlight the HYPP1GF (surface socket). These are perfect for retrofitting existing lighting where you pull out old downlights or changing over from a batten holder to downlight etc. The terminals are all in a row with a well thought insulation barrier which must be 'clicked in' before you can fit the base. Then there's the 'easy fit' base. When I say easy fit, it's easy to fit and to take off again should you need to. (hopefully no more screwdrivers through my hand trying to remove bottom plates etc). They easily fit through a normal downlight cut out, so you can work from a ladder instead of having to go in the roof, even with a few cables and cable ties attached etc. Circuit identification is becoming more and more important. Trader realise this and have added space on the front of the socket outlet to 2 – IPA labels visible even with a plug in the socket.
Thanks and well done Trader and I look forward to more great products in the future.
Gary Hill
A&G Electrical Group Pty Ltd