Trader partners with trusted Australian brands
Mistral Heating, Cooling and Kitchen Products
The Mistral brand has been a household name in Australia since 1968.
The Trader team distributes just a handful of Mistral heating products to the electrical industry, with many more items to be released soon.
Our current range of clever heating units meets the most common demands of the residential and commercial markets. The cooling range is just around the corner and will certainly make your next summer easier to take.
All products are fully certified and compliant with Australian standards and covered by our 1 Year Warranty.
---
Ampfibian Portable Power Protection
We are very pleased to now offer you a range of Ampfibian portable power protection products. These allow you to stay protected when connecting power leads outdoors and in worksite areas.
Ampfibian adaptors also allow you to have a safe and ready to go 15A to 10A solution when required. The Weatherproof Connector was the recipient of the Good Design® Award.
Trader is the Official Ampfibian Distributor to electrical wholesalers of these four products.
Stay connected and protected.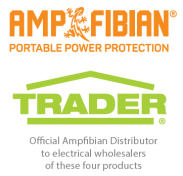 Other Products Downloads
Download the Mistral Data Sheet to see all the Product Technical Description

Download the Ampfibian Data Sheet to see the Product Technical Description

Download the Ampfibian Range Flyer to discover more.
Other Products Product Range