Our Snow Leopard Glass 'Look' Range is a full family of switches and sockets for your next premium installation. Finally Affordable Luxury has arrived.
Unlike other glass products in the market, the Snow Leopard surround takes the glass look cover right to the wall. There is no ugly black base ruining the overall look and collecting dust. A major feature for the home owner to achieve a perfect look.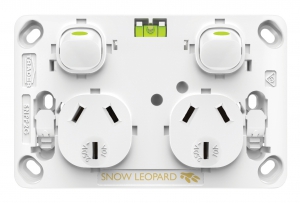 For the electrician, the Snow Leopard Range has an in built spirit level in the grid under the cover to to assist the installer to achieve the perfect fit off. This has never been done before in the electrical industry with powerpoints and switches.
Designed 100% by Trader this range is slim in profile and complete with Green Dolly indicator – the Cat's Eye Dolly – Green is Good, Green is On, Green is Go!
All Snow Leopard switches are 16AX/20AMP standard which we believe are the best Fluoro switch mechanisms on the market – The Claw Mech!
Available across Australia and it is positioned very attractively on price against similar competitors through your Australian Electrical Wholesaler of choice for your next job or major project.
Differentiate your business with the Snow Leopard. The new affordable choice in Glass.
* All similar products are Clipsal references and Clipsal is the Trademark of Schneider Electric Pty Ltd.
Snow Leopard Downloads
Download our Snow Leopard Range Flyer to see why you should use our Premium 'Glass Look' Range of Switches & Sockets

Download the Snow Leopard Data Sheet to see all the Product Technical Description
Snow Leopard Product Range