Customer Relations Manager, Andrew Peddle, volunteers his time on the Variety
August 26, 2021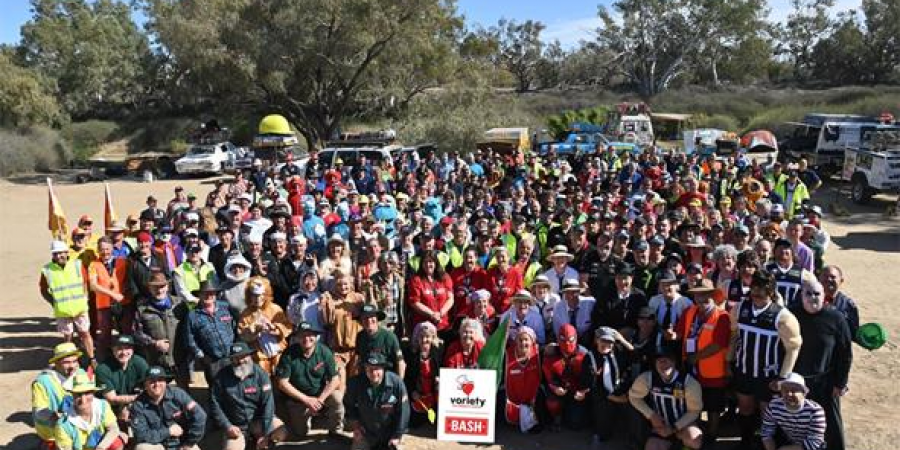 Customer Relations Manager, Andrew Peddle, volunteers his time on the Variety SA Bash (2021)
Variety - the Children's Charity helps thousands of children each year, providing support for children and families across Australia. In South Australia alone, over the past 33 years the Variety SA Bash has raised over $48 million (net)1 in support of thousands of sick, disadvantaged, or children living with special needs across South Australia.
A major event on the Variety SA - the Children's Charity calendar each year is the Variety SA Bash. The Variety SA Bash entrants raise money all year round and the annual event is the reward for their efforts. It's organised by Variety SA - the Children's Charity and paid for by the entrants. The Variety SA Bash also visits children around South Australia, distributing support services to children in need with the funds raised by the entrants.
The first Variety Bash was organised in 1984-1985 when:

Dick Smith invites his mates for "a drive in the bush" to raise funds for Variety. The Variety Bash was born and quickly becomes an incredibly successful charity event. (https://www.variety.org.au/sa/about/our-story/)
This year the Variety SA Bash 2021 took place from 14th – 21st August. On Saturday 14th August, 108 cars and 330 entrants and officials left from the SA Produce Market Pooraka to begin their epic journey. Over eight days, the convoy snaked through the picturesque Flinders Ranges visiting regional South Australian towns spreading joy and distributing much-needed funds to South Australian children in need until they reached their destination — South Australia's Mid North town of Clare
All the officials, medics, radio comms cars, and mobile workshop support crews are volunteers. The South Australian event is the only one in the country where the mobile workshops are volunteers. In other states, the Mobile Workshops are businesses that charge the entrants for their vehicle maintenance and repairs. In SA, the crews volunteer their time and vehicles to keep the entrant's cars moving.
So, Trader was only too happy to get behind the Mobile Workshop 5 (MW5) crew consisting of our Customer Relations Manager, Andrew Peddle, and Stuart Peddle, Brian Peddle and Geoff Moody.
This dedicated team spent the eight days in the legendary Landcruiser 79 series from Jacksons Australia & Jacksons Carry Me Campers at Murray Bridge, towing the Trader Trailer full of everything required for a mechanical emergency that may occur out in the middle of nowhere. The boys were often the first ones up and last ones to bed after a busy day of fixing flat tyres, busted axles, suspension mounts, changing air filters and even assisting with a complete gearbox overhaul.
Even though they were one of the busiest crews on the trail, they still managed to send updates and pictures to Trader head office for daily updates on our socials which we have gathered here in case you missed them. To veiw all the images head to https://www.facebook.com/TRADERGSM/
We hope you enjoy.
---
Variety SA Bash (2021) || FRUIT II THE VINE
Tomorrow is day one of the Variety SA - the Children's Charity Bash.
Every year the Variety SA Bash visits children around South Australia, handing out support services to children in need with the funds raised by the Bash entrants.
It's South Australians giving to the kids of South Australia.
Trader's illustrious Customer Relations Manager, Andrew Peddle, takes part every year, and this year is no exception. He volunteers his time as a Mobile Workshop mechanic – one of the volunteer crews who keep the entrant's cars moving.
The Variety SA Bash departs from SA Produce Market Pooraka, and the event starts at 7:30 am, with the cars starting to leave from 8:30 am. It's a bit of fun with BBQ breakfast and plenty of excitement for the kids with all the Bash entrants dressed up in costume, some cool themed cars, and no doubt they'll be giving away goodies.
So come along to wave them off and support Andrew, Variety SA, the entrants, and the kids of South Australia!
Although an outdoor event, if you attend, please wear a mask.
Good luck Andrew, and all entrants! We look forward to regular updates throughout the week.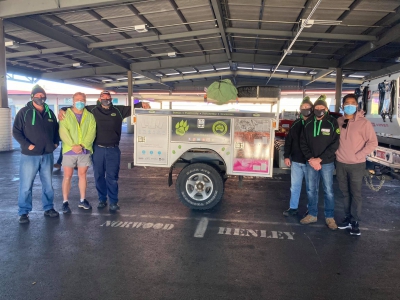 ---
Variety SA Bash (2021) || FRUIT II THE VINE - DAY TWO
After setting off from the SA Produce Markets yesterday, the Variety SA Bash 2021 snaked across beautiful tracks of the lower Mid North's rolling green hills through Caltowie on to Quorn.
The Jacksons Carry Me Campers, and Trader trailer got their first taste of action in Quorn fixing a busted suspension mount on the Hotwheels Car.
Today they continued north through Blinman on to Leigh Creek, where they will spend their second night.
We look forward to following their adventures and seeing some more beautiful scenery.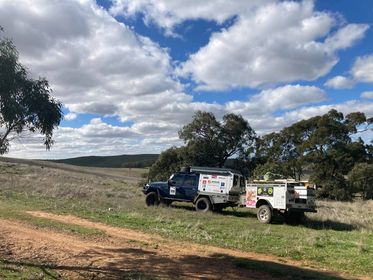 ---

Variety SA Bash (2021) || FRUIT II THE VINE - SANTA SAVES THE DAY
The Basher's trek through Blinman to Leigh creek yesterday saw the MW5 crew busy fixing four flat tyres along the way.
There was still time for a fun stop on a private station in the Flinders ranges though, which brought the Santa's out in full force. Perhaps they use this as their practise so they know exactly what to do if the sleigh breaks down on Christmas Eve? Or had they heard about the freshly cooked hot sugar donuts on offer?
Either way, we bet the entrants were glad to have Santa and his helpers along to work their magic.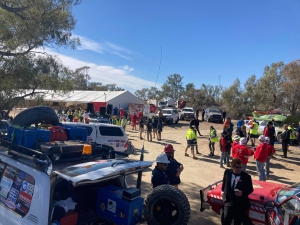 ---
Variety SA Bash (2021) || FRUIT II THE VINE - DAY THREE ON THE STRAZELECKI
Day three saw the Bashers head off from Leigh Creek, up the Strzelecki Track to Innamincka. It was another busy day for the MW5 crew, as they faced a few more tyre repairs plus a bent suspension rod.
They travelled along the original Strzelecki Track, passing the Blue Tree, one of 643 trees in The Blue Tree Project, established to raise awareness of people struggling with mental health concerns.
The Bashers spent the night in Innamincka, where MW5's crew members Brian and Geoff received certificates for 10 and 5 Bashes, respectively. What an impressive effort!
Innamincka is one of Australia's smallest and most remote towns, with a population of 13. It's nestled on the banks of the Cooper Creek and is famous for being the area where Burke and Wills died when returning from their expedition across Australia.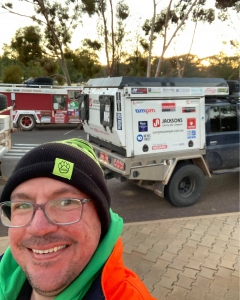 ---
Variety SA Bash (2021) || FRUIT II THE VINE - DAY FOUR TO THE FLOOR
The Bashers spent yesterday in Innamincka enjoying the spaghetti games (we're not sure if that is games using spaghetti or a spaghetti eating competition?). Lots of fun, excitement and shenanigans were had (we don't have photographic evidence).
The MW5 crew didn't have time to play the games, unfortunately. They were working hard repairing more shockers, aerials and an exhaust.
The biggest job of the day was fixing the gearbox on the Hotwheels van. Peds did suggest the Beaufighter engine they found lying around outside the Trading Post at Coopers Creek may do the trick. The rest of the crew quickly pooh-poohed his suggestion, though.
So, all the mobile workshop crews banded together to pull out the gearbox, strip it down, fix the gear issue and whack it back in. The Hotwheels crew were four to the floor and back on the road in no time at all.
Now that's great teamwork.
In case anyone is wondering why a Beaufighter engine is randomly lying around… It is the remnants of a RAAF Beaufighter A19-113 that crashed on Durrie Station in South-West Queensland during storms in 1944. The pilot, navigator, and two RAF Spitfire pilots hitching a ride all bailed out and survived.
---
Variety SA Bash (2021) || FRUIT II THE VINE - DAY FIVE THUNDERBIRDS ARE GO
The Variety SA Bash has reached the halfway point, with the Bashers beginning their return journey through Montecollina Bore back to Leigh Creek.
After an emergency run from Innamincka to Hawker collecting spares for cars, the MW5 caught up with the Bashers on their way into Leigh Creek late in the afternoon.
But there was little rest for the MW5 crew as they got to work repairing several cars that needed some TLC. Only to be up early to help the Thunderbirds Car and Car Cop before they set off for day six.
Montecollina Bore was originally used by drovers to provide water for their sheep during stock crossings. However, it is no longer serviced due to modern stock transportation more or less bringing an end to droving.
Throughout the Variety SA Bash, entrants will present over $60k in grants across the state. Such as the $7,690 grant presented to Quorn Kindy by Bash Car 1300 – Santa's Little Helpers. What a fabulous early Christmas present!
---
Variety SA Bash (2021) || FRUIT II THE VINE - DAY SIX MAGIC SAVES THE FAIRIES
After their early start on day six, the Bashers and MW5 left the dust and dirt behind as they travelled through the picturesque Flinders Ranges to Port Augusta — where the outback meets the sea.
The Jackson Carry Me camper, and Trader trailer arrived in Port Augusta looking a little dustier than when they set off. After spending the night in Port Augusta, the convoy made their way to Peterborough for their final night stay.
The MW5 crew was kept busy and had to conjure some magic on the Fairy Car with an air filter change. And with a tinker and an abracadabra, she was on her way again.
They ended the day in Peterborough, home to the Bob the Railway Dog memorial. The famous railway dog who spent his life travelling the South Australian Railways network at the end of the 19th century, friend to the railwaymen of the day.
Today the Bashers undertake their last leg of their adventure, making their way to Clare, where the Variety SA Bash 2021 wraps up.
---
Variety SA Bash (2021) || FRUIT II THE VINE - DAY EIGHT THAT'S A WRAP
Well, it's engines off and tools down for the Variety SA Bash entrants and all the volunteer crews. They completed their epic journey in Clare yesterday after eight days of spreading happiness and much-needed funds to kids in need across South Australia.
Congratulations to all involved in this super-human effort and the teams who raised $2.076M between them! What a sensational effort. It is now time for a well-deserved break before they no doubt begin to plan for next year!
---
We hope you enjoyed the journey across SA as much as we did.
Congratulations once again to all the entrants and volunteers who dedicate so much time and effort to spread joy to the children of South Australia.
1 https://www.variety.org.au/sa/event/sa-variety-bash/
Testimonials
Just wanted to say a massive thank you to Adam Boston from Adelaide. He is a fantastic tech support and really appreciate his professionalism toward my project I had up here at Barham.

Matty Veitch
Echuca
Had a great solution for a customer recently ...
They had just had a pool built, they had to put the pump house in a certain area. It was a decent distance from being handy especially for the pool lights
... anyway we installed a Powermesh double power point, which had the pump in one side and lights in the other. That enabled us to set schedules on the pump and we put a powermesh light switch inside that was behavior linked to the other side of the GPO.
And just like that you can control it from the entry to the pool, via google and the app!
Perfect results!
Stephen field
Haymans Electrical Wholesale Manager
I am new to the industry and have had quite a few large quote requests lately for Trader items.
There has also been a growing interest into the automation, Zimi, technology and I found the information provided last night (Trader Unboxed Trade Show) to be very beneficial and will assist me greatly to do my job and support my customers request and enquiries – as well as some of my own purchases.
Thanks again to the gentlemen for last night, and all who assisted arranging the information evening. It's always good to leave somewhere having gained knowledge and knowing my time was well spent - not wasted.
Danielle Campbell
L&H
"Hi Trader Team,
Aaron here from Redline Electrical. I thought you would appreciate this great feedback!
Thanks to Trader's Powermesh, we were able to create multi-way switching to replace an underground cable fault without undertaking costly repairs to our client.
We installed both internal and external Powermesh switches, and created new 2- way switching to a Powermesh power point (via Behaviour Link) for garden lighting.
This also enabled our client to schedule timing for their garden lights and ability to have control via their mobile phones which blew our client away! Great product!"
Aaron Bateman
Redline Electrical
Finally someone's prepared to take on board the needs/wants of the contractors. Trader lead the way with new design making the humble 'surface socket' easier and faster to use.
The Trader brand has been a real bonus to the electrical field. Especially, can I highlight the HYPP1GF (surface socket). These are perfect for retrofitting existing lighting where you pull out old downlights or changing over from a batten holder to downlight etc. The terminals are all in a row with a well thought insulation barrier which must be 'clicked in' before you can fit the base. Then there's the 'easy fit' base. When I say easy fit, it's easy to fit and to take off again should you need to. (hopefully no more screwdrivers through my hand trying to remove bottom plates etc). They easily fit through a normal downlight cut out, so you can work from a ladder instead of having to go in the roof, even with a few cables and cable ties attached etc. Circuit identification is becoming more and more important. Trader realise this and have added space on the front of the socket outlet to 2 – IPA labels visible even with a plug in the socket.
Thanks and well done Trader and I look forward to more great products in the future.
Gary Hill
A&G Electrical Group Pty Ltd
As the company owner I have insisted we use Clipsal from day one, as I have always opted for quality equipment. I noticed your Trader products not long ago, and reluctantly broke the habit to try a box of your Puma double GPO's. Since then I have now ordered and installed a number of your trade packs in our housing development work. I have installed your products in our high end residential jobs, including your new dimmers, and am looking forward to trying out your buffalo range with our industrial clients.
From a tradesmans point of view your products are second to none, you have fixed any minor issues your competitors still hadn't, you have listened to the market and created something we have all been asking for. Fantastic!
We have also had clients commenting on how impressive the dimmers are. I am pleased to say you have earned our business and our stock is now Trader!
I hope the feedback is welcomed, and please keep doing what you guys are doing.
Jarryd Schubach
JCS Electrical

I wanted to thank you and of course Simon for the awesome evening at the recent WA Trader Unboxed event. I found it quite liberating that companies like Trader are big enough to offer top products yet small enough to engage so personally.
I am blown away by Powermesh and have ordered a few bits to sample - recon this is going to be a game changer for my business.
If you see Simon please convey my thanks for a great evening at the Saint last night. Thanks
Colin le Roux
COLCOM Electrical