Our Hyena Half Saddle 20MM and 25MM have had a facelift, and we think they look beautiful!
March 16, 2021
There's no getting around it…our Hyena Saddles aren't the most attractive product in the Trader range. But our HYHS20 and HYHS25 recently underwent some cosmetic work, and we have to say, we are pretty happy with the result.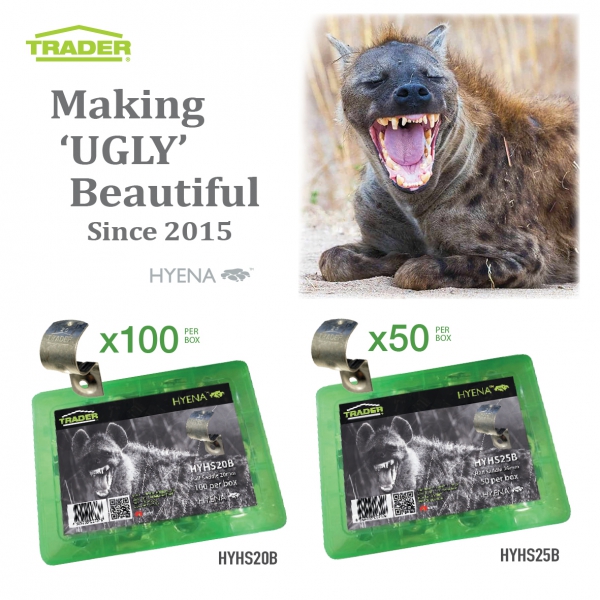 The Hyena Half Saddle 20MM (HYHS20B) and Hyena Half Saddle 25MM (HYHS25B) now come in a sturdy plastic box. So, you can throw them in your van or on your warehouse shelf and not have to worry about battered cardboard boxes falling apart, scattering saddles everywhere.
So, it's not just a cosmetic improvement, it also makes your life easier. No more wasting time searching for stray saddles!
You still get the same great quality as the other saddles in the Hyena range. Both the HYHS20B and HYHS25B:
have greater than 6.5mm holes capable of pushing plastic wall plugs
through the saddle when wall mounted
are zinc plated
Testimonials
As the company owner I have insisted we use Clipsal from day one, as I have always opted for quality equipment. I noticed your Trader products not long ago, and reluctantly broke the habit to try a box of your Puma double GPO's. Since then I have now ordered and installed a number of your trade packs in our housing development work. I have installed your products in our high end residential jobs, including your new dimmers, and am looking forward to trying out your buffalo range with our industrial clients.
From a tradesmans point of view your products are second to none, you have fixed any minor issues your competitors still hadn't, you have listened to the market and created something we have all been asking for. Fantastic!
We have also had clients commenting on how impressive the dimmers are. I am pleased to say you have earned our business and our stock is now Trader!
I hope the feedback is welcomed, and please keep doing what you guys are doing.
Jarryd Schubach
JCS Electrical

Finally someone's prepared to take on board the needs/wants of the contractors. Trader lead the way with new design making the humble 'surface socket' easier and faster to use.
The Trader brand has been a real bonus to the electrical field. Especially, can I highlight the HYPP1GF (surface socket). These are perfect for retrofitting existing lighting where you pull out old downlights or changing over from a batten holder to downlight etc. The terminals are all in a row with a well thought insulation barrier which must be 'clicked in' before you can fit the base. Then there's the 'easy fit' base. When I say easy fit, it's easy to fit and to take off again should you need to. (hopefully no more screwdrivers through my hand trying to remove bottom plates etc). They easily fit through a normal downlight cut out, so you can work from a ladder instead of having to go in the roof, even with a few cables and cable ties attached etc. Circuit identification is becoming more and more important. Trader realise this and have added space on the front of the socket outlet to 2 – IPA labels visible even with a plug in the socket.
Thanks and well done Trader and I look forward to more great products in the future.
Gary Hill
A&G Electrical Group Pty Ltd