Got any blacker?
October 21, 2019
Got any blacker?
Remember this great line from a 90's Foot Locker commercial? Well the answer is YES, Trader has your black electrical accessories more than covered.
Black is such a classic colour that it never goes out of style whether it is coupled with white or used as a statement. Here are just some of the ways Trader products that can help add those finishing touches where black is the hero or just needs to blend in.
A popular choice with builders and consumers is our slim range of switches and sockets, Flat Cat. At just 4.5mm thin, they look super sleek in black and in the matt black finish. With the matt back trend continuing to dominate design style, you can now recommend switches and sockets to accompany other accessories, like kettles, toasters and tap ware, featuring the same finish.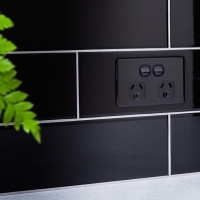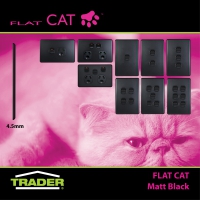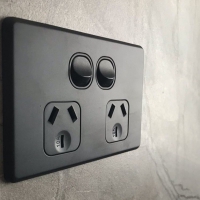 Snow Leopard switches and sockets offer a luxury look at an affordable price. The black 'glass' look offers a modern finish for any new kitchen or bathroom space and now comes in black/black and black/silver. But why limit it to just those areas? Continue the modern look throughout the entire home! Don't forget to include our black Snow Leopard Cooker Switch to complete the look!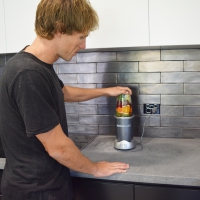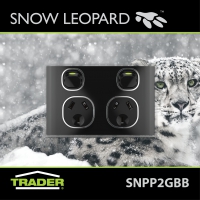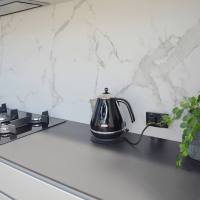 Surely you don't have a black smoke alarm? Yep, we sure do! Our recently released Bear Smoke Alarm now features 4 terminals and also comes with a skirt available to purchase separately (in black too!).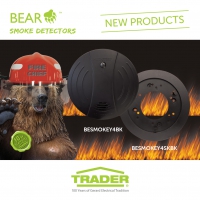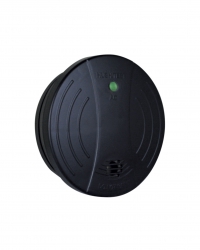 Our semi slim Leopard range is easy to install with standard mounting accessories – no awkward cut out required. You'll find a full suite of switches and sockets available in black, including one, two and three gang architrave switches. Install throughout or add black Snow Leopard to complement where appropriate.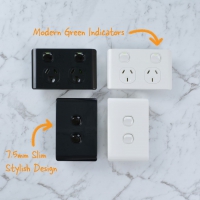 Readily being able to charge devices is no longer a luxury but an expectation. Our Cougar, fully integrated dual USB power point in black, is not only practical but is a great range addition, to a style that is one of the most familiar to electricians and consumers within the Australian market.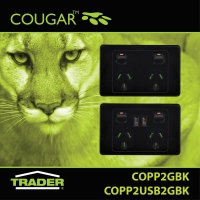 The ultimate in device charging and power outlets, the Puma 4x4 is a great addition to so many environments including kitchens, entertainment areas, studies, offices and retail spaces. You can also find a black version of this same product in our Cheetah range, with a touch of green featured on our dolly indicators, offering a unique point of different.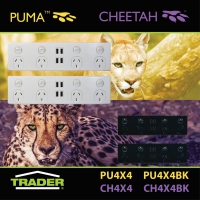 YES! We offer a black weatherproof power point! We can't believe how popular our black hippo is, with the product continuing to sell out not long after it hits the Wholesaler shelves (plus it's now also available with a shallow base option for power points). Well get ready, we have added another hippo to our pod – a black weatherproof switch so now you can offer a solution for those outdoor areas where black (or dark colouring) is a feature.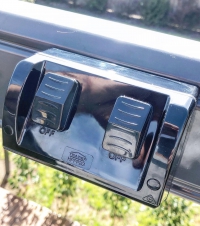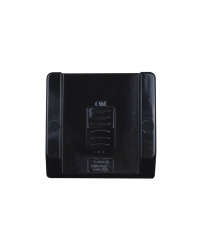 Staying outdoors, our Arctic Owl Sensor can continue to blend in with it's environment with a black version recently released. With many applications, this outdoor passive infrared sensor (IP66) offers security and convenience.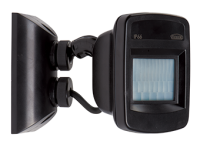 Make an impact with our black shell Scorpion downlights. Most people take the safe option and stick with white or silver shell's but why not recommend a black shell to add that 'WOW' factor. It has a 'matt' appearance so perfect to install in conjunction with our Flat Cat Matt Black range.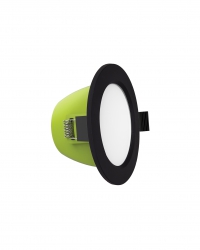 Don't forget our Meerkat range for your black Mech options, which now include matt black. These can also be printed on via our custom mech printing service. Simply order this service through your Wholesaler when you purchase your mechs (additional charges apply).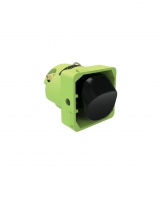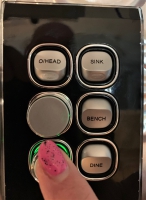 Complete the look with Dimpala dimmer knobs in both black and now matt black finishes. You'll find in black, our rotary Dimmer (DIMR) or the impressive DIMPR – a dimmer and switch all in one, the perfect way to reduce clutter on black or matt black switch plates.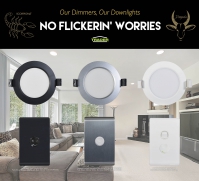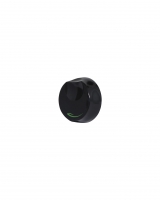 Last, but certainly not least – your customers can enjoy the convenience of a connected space with Powermesh. Three cover options are available in black - Puma, Leopard and Snow Leopard, offering a design to suit any style.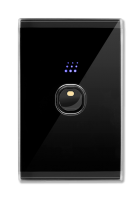 So when your customers ask 'Does that come in black?' you can present them with not just one, but multiple options to suit their project, renovation or new build.
Our Switches and Sockets Selection Guide is the perfect tool to help you do this!
Download now
or request a hard copy service@gsme.com.au or browse our
website
to view all of our ranges.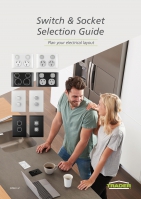 ---
Passion Flexibility Partnership
Testimonials
"Hi Trader Team,
Aaron here from Redline Electrical. I thought you would appreciate this great feedback!
Thanks to Trader's Powermesh, we were able to create multi-way switching to replace an underground cable fault without undertaking costly repairs to our client.
We installed both internal and external Powermesh switches, and created new 2- way switching to a Powermesh power point (via Behaviour Link) for garden lighting.
This also enabled our client to schedule timing for their garden lights and ability to have control via their mobile phones which blew our client away! Great product!"
Aaron Bateman
Redline Electrical
Finally someone's prepared to take on board the needs/wants of the contractors. Trader lead the way with new design making the humble 'surface socket' easier and faster to use.
The Trader brand has been a real bonus to the electrical field. Especially, can I highlight the HYPP1GF (surface socket). These are perfect for retrofitting existing lighting where you pull out old downlights or changing over from a batten holder to downlight etc. The terminals are all in a row with a well thought insulation barrier which must be 'clicked in' before you can fit the base. Then there's the 'easy fit' base. When I say easy fit, it's easy to fit and to take off again should you need to. (hopefully no more screwdrivers through my hand trying to remove bottom plates etc). They easily fit through a normal downlight cut out, so you can work from a ladder instead of having to go in the roof, even with a few cables and cable ties attached etc. Circuit identification is becoming more and more important. Trader realise this and have added space on the front of the socket outlet to 2 – IPA labels visible even with a plug in the socket.
Thanks and well done Trader and I look forward to more great products in the future.
Gary Hill
A&G Electrical Group Pty Ltd
As the company owner I have insisted we use Clipsal from day one, as I have always opted for quality equipment. I noticed your Trader products not long ago, and reluctantly broke the habit to try a box of your Puma double GPO's. Since then I have now ordered and installed a number of your trade packs in our housing development work. I have installed your products in our high end residential jobs, including your new dimmers, and am looking forward to trying out your buffalo range with our industrial clients.
From a tradesmans point of view your products are second to none, you have fixed any minor issues your competitors still hadn't, you have listened to the market and created something we have all been asking for. Fantastic!
We have also had clients commenting on how impressive the dimmers are. I am pleased to say you have earned our business and our stock is now Trader!
I hope the feedback is welcomed, and please keep doing what you guys are doing.
Jarryd Schubach
JCS Electrical

Just wanted to say a massive thank you to Adam Boston from Adelaide. He is a fantastic tech support and really appreciate his professionalism toward my project I had up here at Barham.

Matty Veitch
Echuca
I wanted to thank you and of course Simon for the awesome evening at the recent WA Trader Unboxed event. I found it quite liberating that companies like Trader are big enough to offer top products yet small enough to engage so personally.
I am blown away by Powermesh and have ordered a few bits to sample - recon this is going to be a game changer for my business.
If you see Simon please convey my thanks for a great evening at the Saint last night. Thanks
Colin le Roux
COLCOM Electrical
Had a great solution for a customer recently ...
They had just had a pool built, they had to put the pump house in a certain area. It was a decent distance from being handy especially for the pool lights
... anyway we installed a Powermesh double power point, which had the pump in one side and lights in the other. That enabled us to set schedules on the pump and we put a powermesh light switch inside that was behavior linked to the other side of the GPO.
And just like that you can control it from the entry to the pool, via google and the app!
Perfect results!
Stephen field
Haymans Electrical Wholesale Manager
I am new to the industry and have had quite a few large quote requests lately for Trader items.
There has also been a growing interest into the automation, Zimi, technology and I found the information provided last night (Trader Unboxed Trade Show) to be very beneficial and will assist me greatly to do my job and support my customers request and enquiries – as well as some of my own purchases.
Thanks again to the gentlemen for last night, and all who assisted arranging the information evening. It's always good to leave somewhere having gained knowledge and knowing my time was well spent - not wasted.
Danielle Campbell
L&H