Is it a bird? Is it a plane? No, it's Powermesh!
April 02, 2019
Trader's Powermesh double power point has many features and benefits for your customers. We love hearing all the examples you come up with and the opportunities that they can then offer your customers. Here's a few we thought we'd share!
Ever left the house and had the feeling you've left something on? The girls in the Trader office use this example all the time – the infamous hair straightener! But of course it could be the iron, heater or even the electric blanket. With the Zimi Cloud Connect, your customers can use the Zimi App to access Powermesh switches remotely, this will allow them to check if in fact it was left on, and if so, simply turn it off. No stress, no worries, no need to return home.
Perhaps your customer has a holiday home that they rent out. If the home has Wi-Fi and a Zimi Cloud Connect, your customer can remotely turn off appliances when no guests are occupying the residence and turn back on as required. Turn on the fridge the day prior to ensure it's cold for the arrival of guests. Another popular holiday home function is the ability to remotely turn on a small hot water system that plugs into a power point, so hot water is available prior to guest's arrival, without wasting excess power by having it continually run.
The scheduling functionality available offers endless opportunities!
Parents arguing with their kids to get off the Xbox or PlayStation, is a common occurrence in households around Australia every day. Control the power supply to gaming consoles by setting a schedule to turn on and off at programmed times.
If you consider yourself a coffee aficionado and have an automatic coffee machine, fire it up ready for your morning coffee hit, again by setting it to turn on just before your alarm clock goes off and have it turn off after you've left for work.
There's nothing better than getting into a warm bed – schedule an electric blanket to come on before you hit the sack and then to turn off so you don't get too hot! Then schedule it to turn back in the early hours of the morning. You can actually set up 16 schedules per device! Even better, schedule the heated towel rail to come on at the same time, so you have the luxury of warm towels after a shower during winter!
Install a Powermesh enabled power point into a weatherproof box or shed, if convenient, to operate a 10A pool pump, either using the Zimi App to control on/off functionality or schedule the pump to run for a certain period, each day, perhaps during non-peak power usage times.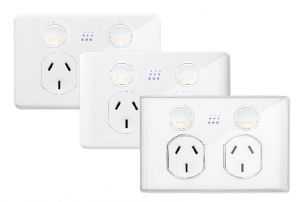 Set garden lighting to turn on, for those who arrive home after dark and for added security.
As long as the appliance or product has a latching switch, it can be operated via the Zimi app. Recommend the Zimi Cloud Connect so your customers can unlock the convenience of operating these appliances with voice commands through Google. Watch an example of a kettle turning on using a simple voice command!
Why not set up a scene in Google for your customers with a simple voice command of 'Hey Google, night time entertaining'. Your customers can impress their guests by programming it to turn on water features, garden lighting, outdoor heaters, the television or automatically play preselected music by adding Spotify to their Google Home device. Check out some more scenes in action!
The Powerlock feature has some great benefits, particularly offering safety and security to families with young children. It can also be practical in retail and public spaces where power may not necessarily be required by patrons for example a Library – management may only want certain power points available to visitors during the day so the Powerlock function can be utilised during business hours. A schedule can be created to have them turned on after hours for cleaners to access, then turn backed off at a selected time, with the outlets returned to Powerlock mode.

We all know energy costs keep increasing. Customers can track energy costs in real time, by adding their per kWh electricity price to the Zimi App. They can also monitor energy use on particular appliances like fridges. Why not recommend they monitor their entertainment area eg. TV, BluRay, Soundbar etc to see how much standby power is being used by these devices – if it's a large amount, they can easily turn these off each night via the Zimi app on the customers device, avoiding the need to reach awkwardly behind entertainments units where power points are generally installed.
Take a look at this recent story on Today Tonight where one Contractor is using Powermesh and the Zimi App to show which appliances are drawing lots of power and solutions to reduce their energy bills. Don't forget the Powermesh power points will also indicate when an appliance is drawing over 500W by the Powermesh logo on the power point pulses green.
We've just scratched the surface of examples a Powermesh double power point can offer – discover more at www.zimi.life
*Some of the examples provided will require a Zimi Cloud Connect and Wi-Fi in order to access the functionality.
---
Passion Flexibility Partnership
Testimonials
As the company owner I have insisted we use Clipsal from day one, as I have always opted for quality equipment. I noticed your Trader products not long ago, and reluctantly broke the habit to try a box of your Puma double GPO's. Since then I have now ordered and installed a number of your trade packs in our housing development work. I have installed your products in our high end residential jobs, including your new dimmers, and am looking forward to trying out your buffalo range with our industrial clients.
From a tradesmans point of view your products are second to none, you have fixed any minor issues your competitors still hadn't, you have listened to the market and created something we have all been asking for. Fantastic!
We have also had clients commenting on how impressive the dimmers are. I am pleased to say you have earned our business and our stock is now Trader!
I hope the feedback is welcomed, and please keep doing what you guys are doing.
Jarryd Schubach
JCS Electrical

Finally someone's prepared to take on board the needs/wants of the contractors. Trader lead the way with new design making the humble 'surface socket' easier and faster to use.
The Trader brand has been a real bonus to the electrical field. Especially, can I highlight the HYPP1GF (surface socket). These are perfect for retrofitting existing lighting where you pull out old downlights or changing over from a batten holder to downlight etc. The terminals are all in a row with a well thought insulation barrier which must be 'clicked in' before you can fit the base. Then there's the 'easy fit' base. When I say easy fit, it's easy to fit and to take off again should you need to. (hopefully no more screwdrivers through my hand trying to remove bottom plates etc). They easily fit through a normal downlight cut out, so you can work from a ladder instead of having to go in the roof, even with a few cables and cable ties attached etc. Circuit identification is becoming more and more important. Trader realise this and have added space on the front of the socket outlet to 2 – IPA labels visible even with a plug in the socket.
Thanks and well done Trader and I look forward to more great products in the future.
Gary Hill
A&G Electrical Group Pty Ltd