Every Superhero needs an Alfred or a Jarvis. Our Powermesh range has zimi.life
June 18, 2019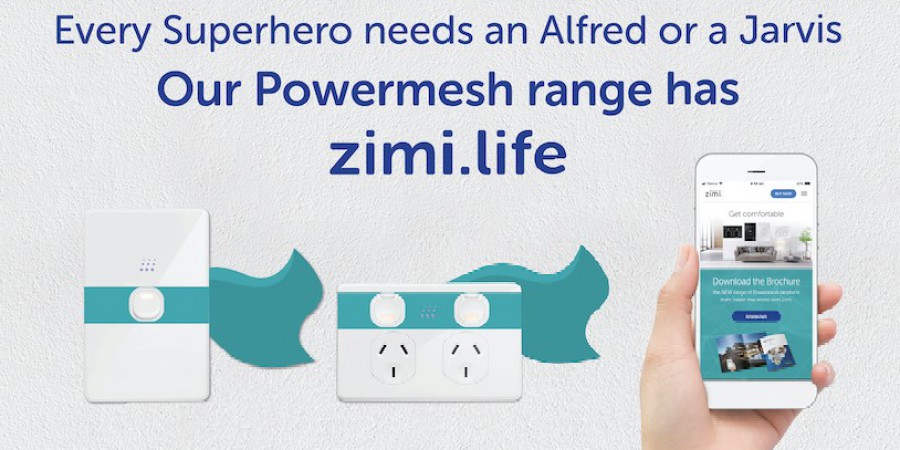 If you only take two things away from this blog it's that you need to visit zimi.life and save it to your favourites. It's the digital support for our Powermesh Power Point and Powermesh dimmer and can also be yours!
If you've already paid the website a visit then you'll know it's a wonderful resource to expand your knowledge on all things Powermesh and Zimi. It's also perfect to show the functional (and super cool) features and benefits this connectivity range can offer your customers.
Before venturing into the worldwide web, we have referred to both Powermesh and Zimi but what's the difference? Is there a difference? Yes, there is BUT they work hand in hand to deliver a total experience to your customers.
Powermesh products connect to each other using the security and reliability of a Bluetooth® mesh network, creating multiple connection points in your customer's home. The more linked Powermesh products you have, the stronger and more reliable your customer's home network is. Learn more about the 'power of mesh' here.
Zimi is the free app that connects Powermesh products, allowing the user simple control of their connected home on a smart phone or tablet. Available for free download for iOS on the App store, or for Android on the Google Play store. Discover more about how zimi.life can make your customers lives simpler here.
Back to the zimi.life website – you'll find many examples of how Zimi can make your customer's lives simpler. Energy monitoring (in both kilowatts and dollars), the ability to set schedules to turn off and on appliances and lighting, remote access and even voice control with the Google Assistant are just a few examples of the way your customers can enjoy the convenience of automation*. Read more about the 'super powers' of the Powermesh Power Point and Powermesh Dimmer.
A full range overview, featuring current and 'coming soon' Powermesh products, drills further down into the functionality of each product including all important specifications. You'll also be able to download an instruction and setup guide, if you need support with your install**.
Speaking of downloads, zimi.life features the Powermesh brochure which is a wonderful marketing tool to help show and explain that having a connected home is now, in fact, an affordable luxury for everyone and every home. If you'd like a hard copy of this brochure, please email your request service@gsme.com.au or download direct from the website.
Need some guidance? The zimi.life support section is full of helpful information including how to use features in Zimi, individual Powermesh product troubleshooting, videos and a comprehensive list of FAQ's. If you still require assistance, then you can complete a simple form to request a call back from one of our technical team.
For those of you who have registered as licenced*** electrician on the Zimi App and have paired a Powermesh product, you may not realise that you feature on our Powermesh Installers list! Yes, you! Any homeowner wanting Powermesh can click on the Buy Now button on zimi.life to search for registered Powermesh installers in their area! A little way we can help to promote our Trader partners and grow our business together.
Remember Powermesh is;
Simple and affordable
Install in any existing home or new build
No extra wires
No training courses or lengthy accreditation process
Fully scalable – introduce a few Powermesh enabled devices for your customers to start their Powermesh experience then add more as new products are added to the range.
So what are you waiting for? If you are keen to learn more about Powermesh, visit zimi.life or purchase from your Electrical Wholesaler to try it for yourself.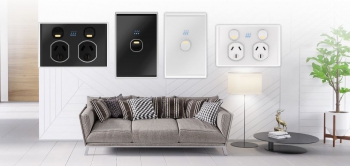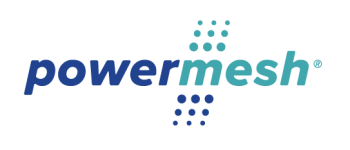 *Some functionality requires a Zimi Cloud Connect and Internet connection. **Please note Powermesh is not a DIY product and must be installed by a licensed electrician. ***A current electrical licence number must be entered upon completing the registration. This will be validated by the Powermesh team and can take up to 5 business days.
Passion Flexibility Partnership
Testimonials
As the company owner I have insisted we use Clipsal from day one, as I have always opted for quality equipment. I noticed your Trader products not long ago, and reluctantly broke the habit to try a box of your Puma double GPO's. Since then I have now ordered and installed a number of your trade packs in our housing development work. I have installed your products in our high end residential jobs, including your new dimmers, and am looking forward to trying out your buffalo range with our industrial clients.
From a tradesmans point of view your products are second to none, you have fixed any minor issues your competitors still hadn't, you have listened to the market and created something we have all been asking for. Fantastic!
We have also had clients commenting on how impressive the dimmers are. I am pleased to say you have earned our business and our stock is now Trader!
I hope the feedback is welcomed, and please keep doing what you guys are doing.
Jarryd Schubach
JCS Electrical

Finally someone's prepared to take on board the needs/wants of the contractors. Trader lead the way with new design making the humble 'surface socket' easier and faster to use.
The Trader brand has been a real bonus to the electrical field. Especially, can I highlight the HYPP1GF (surface socket). These are perfect for retrofitting existing lighting where you pull out old downlights or changing over from a batten holder to downlight etc. The terminals are all in a row with a well thought insulation barrier which must be 'clicked in' before you can fit the base. Then there's the 'easy fit' base. When I say easy fit, it's easy to fit and to take off again should you need to. (hopefully no more screwdrivers through my hand trying to remove bottom plates etc). They easily fit through a normal downlight cut out, so you can work from a ladder instead of having to go in the roof, even with a few cables and cable ties attached etc. Circuit identification is becoming more and more important. Trader realise this and have added space on the front of the socket outlet to 2 – IPA labels visible even with a plug in the socket.
Thanks and well done Trader and I look forward to more great products in the future.
Gary Hill
A&G Electrical Group Pty Ltd