Case Study - Swim, Ride, Run, Trader
October 15, 2019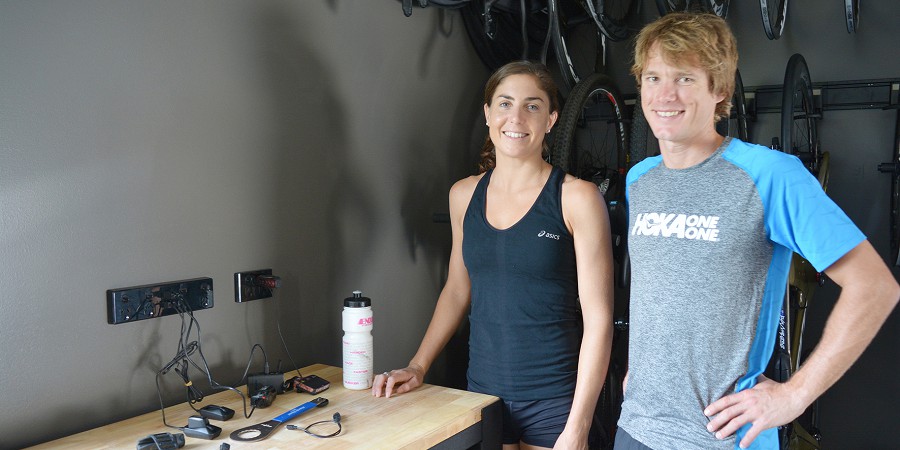 'Exercise' choice and be 'Fit' with style!
Building your first home can be a stressful time but, not for two of Australia's best professional Triathletes, Ashleigh Gentle and Josh Amberger. Great partners in all aspects of the build, made the process an easy ride, including selecting Trader for their electrical accessories. The building journey for this successful sporting couple commenced over two years ago, with council approval for the development making it a slow start. However, once the builder, Bula Constructions, was appointed as well as Ben Fleming from BLF Electrical Services, pictured with the couple, the project moved into full swing.
"This was our first home as well so we had no idea. It's funny, Ashleigh and I have bought cars and made some large purchases but committing to the house was scary, but exciting," Josh said. Both Ashleigh and Josh were competing in Spain in 2017 when designing the house and again in 2018 when making the majority of their Trader electrical selections with Ben - a unique situation.
Ben explained, "The hardest part of the whole project was that Josh and Ashleigh were overseas for portions of it (the planning) so coordinating changes and what products were going to be used in the house was sometimes difficult to sort out due to time differences. Josh and Ashleigh both wanted to be involved as much as they could which made things easy in the end.''
Click here to read the full Swim, Ride, Run, Trader Case Study!
---
Passion Flexibility Partnership
Testimonials
Finally someone's prepared to take on board the needs/wants of the contractors. Trader lead the way with new design making the humble 'surface socket' easier and faster to use.
The Trader brand has been a real bonus to the electrical field. Especially, can I highlight the HYPP1GF (surface socket). These are perfect for retrofitting existing lighting where you pull out old downlights or changing over from a batten holder to downlight etc. The terminals are all in a row with a well thought insulation barrier which must be 'clicked in' before you can fit the base. Then there's the 'easy fit' base. When I say easy fit, it's easy to fit and to take off again should you need to. (hopefully no more screwdrivers through my hand trying to remove bottom plates etc). They easily fit through a normal downlight cut out, so you can work from a ladder instead of having to go in the roof, even with a few cables and cable ties attached etc. Circuit identification is becoming more and more important. Trader realise this and have added space on the front of the socket outlet to 2 – IPA labels visible even with a plug in the socket.
Thanks and well done Trader and I look forward to more great products in the future.
Gary Hill
A&G Electrical Group Pty Ltd
As the company owner I have insisted we use Clipsal from day one, as I have always opted for quality equipment. I noticed your Trader products not long ago, and reluctantly broke the habit to try a box of your Puma double GPO's. Since then I have now ordered and installed a number of your trade packs in our housing development work. I have installed your products in our high end residential jobs, including your new dimmers, and am looking forward to trying out your buffalo range with our industrial clients.
From a tradesmans point of view your products are second to none, you have fixed any minor issues your competitors still hadn't, you have listened to the market and created something we have all been asking for. Fantastic!
We have also had clients commenting on how impressive the dimmers are. I am pleased to say you have earned our business and our stock is now Trader!
I hope the feedback is welcomed, and please keep doing what you guys are doing.
Jarryd Schubach
JCS Electrical