8 Trader Switches and Sockets that consumers (and electricians!) will love!
November 06, 2018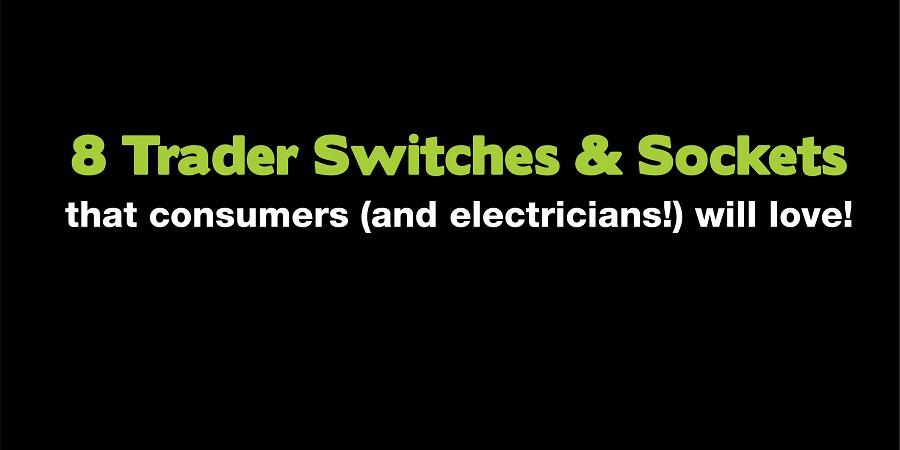 8 Trader Switches and Sockets that consumers (and electricians!) will love!
Electrical accessories can really complement a new build or renovation. No longer is there just a standard white switch or socket to choose from. Trader has a range of options like slim and semi slim profiles, brushed aluminium covers, black and matt black plus glass look to suit many design options. Here are some of our ideas to add those finishing touches with electrical accessories.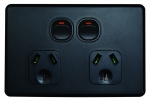 Flat Cat Matt Black (FLPP2GMBK) – Matt Black is a trend that continues to feature strongly in interior design. Include this finish with our ultra slim Flat Cat range and these switches and sockets will be on the top of every new build and renovators must have list.
Puma 4x4 (PU4X4) – Four power points AND four USB outlets. This product solves the need for unsightly power boards and arguments over who gets to charge their device.
Snow Leopard Cooker Switch (SNSWDPOV45WW) – They say kitchens sell homes so why not add some luxury with Snow Leopard switches and sockets. This 'glass' look range includes a cooker switch, in black and white, to offer a complete finish.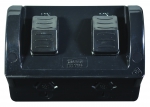 Hippo Weatherproof Black Socket (HPPP2GBK) – Everyone is familiar with the grey range of outdoor switchgear, but Trader has a black version that is proving to be more than popular…..it keeps selling out! A great little addition to blend in with black décor found in outside entertaining areas. Keep an eye out for our Hippo black switch arriving early next year.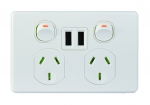 Puma USB (PUPP2USB2G) – A great solution to the endless need to charge our devices. Add them to kitchens, bedrooms, lounge rooms, offices, hotels, restaurants, retail stores, airport waiting lounges….the options are endless.
Leopard Black Socket with Brushed Aluminium Cover (LEPP2GBK + LEPP2GCBA) – Imagine a semi slim double power point in black with a cool brushed aluminium cover. No need to imagine, it's possible by adding this modern style cover to a black Leopard socket.
Cheetah Big 5 (CHBIG5) – When there never seems to be enough power points, the Cheetah Big 5 has you covered. A practical solution to suit kitchens, bedrooms, living rooms, offices and workshops. Plus they include a modern touch with a green indicator.

Puma Entertainment Plate (PUENTP3G) – Our innovative parallel style entertainment plate is a practical design to house all of the modern day connection for entertainment areas. Not only is it practical it keeps all those TV, Data and HDMI cabling neat and hidden in the wall panel – puuurfect! The Puma Entertainment Plate also spearhead's our Puma - the Ultimate Entertainer blog!
---
Passion Flexibility Partnership
Testimonials
As the company owner I have insisted we use Clipsal from day one, as I have always opted for quality equipment. I noticed your Trader products not long ago, and reluctantly broke the habit to try a box of your Puma double GPO's. Since then I have now ordered and installed a number of your trade packs in our housing development work. I have installed your products in our high end residential jobs, including your new dimmers, and am looking forward to trying out your buffalo range with our industrial clients.
From a tradesmans point of view your products are second to none, you have fixed any minor issues your competitors still hadn't, you have listened to the market and created something we have all been asking for. Fantastic!
We have also had clients commenting on how impressive the dimmers are. I am pleased to say you have earned our business and our stock is now Trader!
I hope the feedback is welcomed, and please keep doing what you guys are doing.
Jarryd Schubach
JCS Electrical

Finally someone's prepared to take on board the needs/wants of the contractors. Trader lead the way with new design making the humble 'surface socket' easier and faster to use.
The Trader brand has been a real bonus to the electrical field. Especially, can I highlight the HYPP1GF (surface socket). These are perfect for retrofitting existing lighting where you pull out old downlights or changing over from a batten holder to downlight etc. The terminals are all in a row with a well thought insulation barrier which must be 'clicked in' before you can fit the base. Then there's the 'easy fit' base. When I say easy fit, it's easy to fit and to take off again should you need to. (hopefully no more screwdrivers through my hand trying to remove bottom plates etc). They easily fit through a normal downlight cut out, so you can work from a ladder instead of having to go in the roof, even with a few cables and cable ties attached etc. Circuit identification is becoming more and more important. Trader realise this and have added space on the front of the socket outlet to 2 – IPA labels visible even with a plug in the socket.
Thanks and well done Trader and I look forward to more great products in the future.
Gary Hill
A&G Electrical Group Pty Ltd