6 ranges of Trader switches and sockets to suit any style
April 23, 2019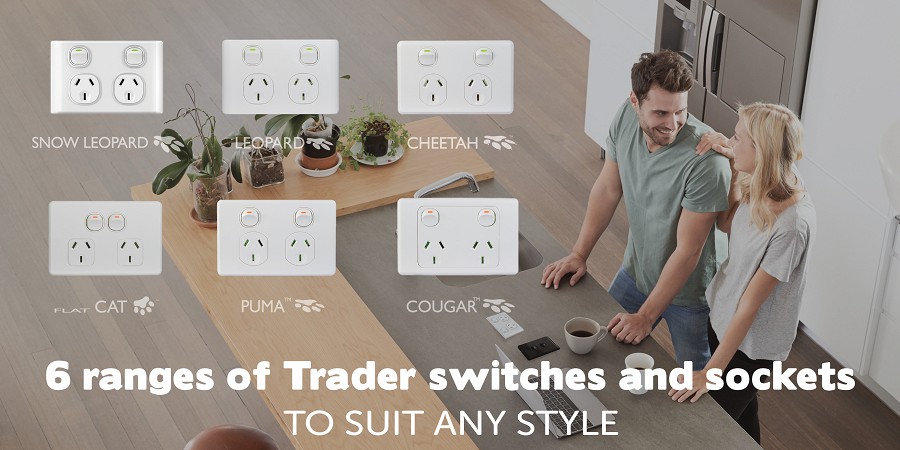 Each day brings you different opportunities to recommend and install various styles of switches and sockets. Whether it's the homeowner who wants to match the look of a classic style already installed throughout their home or new build customers who want a modern and premium range to match on trend styles, Trader has options to suit your customers' requirements!
Switches and sockets shouldn't be an afterthought and can certainly enhance a space, just like our Snow Leopard range. This 'glass look' finish allows your customers to achieve a luxury, high end look but without the hefty price tag. Make a statement by installing a white double power point against a black splashback or vice versa. The Snow Leopard surround takes the glass look cover right to the wall, offering a seamless finish against the same colour surface.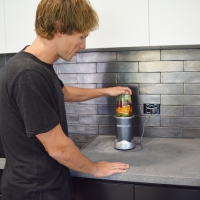 You can also recommend our newest additions to the range the White/Silver or Black/Silver to highlight kitchen or bathroom accessories.
At an attractive price point, Snow Leopard can easily be extended throughout a home to offer a complete look (and an ideal opportunity to upsell!). Plus the range comes with a bonus for you* – Trader has included a built in spirit level in the gird, under the cover to assist you in achieving the perfect fit off!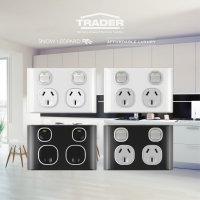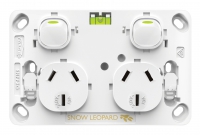 If Snow Leopard isn't required throughout the entire job, the perfect partner is the Leopard range. At the same semi slim profile (7.5mm thin), it is ideal to install in more functional areas like laundries and bedrooms. The Leopard range also features our popular, fully integrated USB double power point – a must have in any new build or renovation.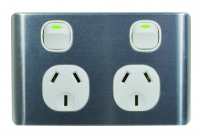 Leopard is also available in black and with brushed aluminium covers, which can be added to both the white and black colour options and offer a great opportunity to work in with appliances and tapware. Oh and let us not forget a touch of innovation by our product team – being slim doesn't always mean a strange cut out. The Leopard range has no bosses and fits standard mounting accessories. A great time saver for you!
Are your customers after a familiar style, but perhaps a little slimmer? Then Cheetah is an ideal choice. Featuring our green dolly – the Cat's Eye Dolly – this range offers something different for you to offer your builder or homeowner. The range includes the CH4x4 – that's four sockets and four USB outlets all in one unit! Plus when your customers require more outlets, the Cheetah has four and five gang fixed power points (they're double pole as well!).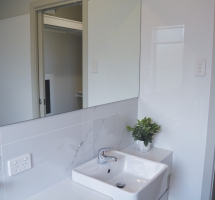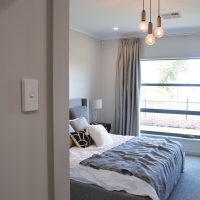 We know homeowners and builders love the look of slim switches and sockets so our Flat Cat range is the best choice to meet their needs. At only 4.5mm thin they are slim and sleek plus Trader has a variety of colours and finishes to offer your customers. Of course, it's available in white and black but our matt black finish is proving to be super popular being the perfect accompaniment to matt black tapware, appliances and cabinet handles, a finish which continues to be on trend. You'll also find brush aluminium covers in this range which can be interchangeable with all Flat Cat plates.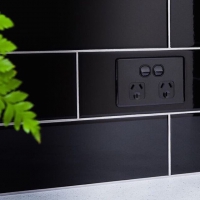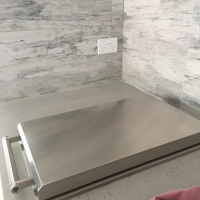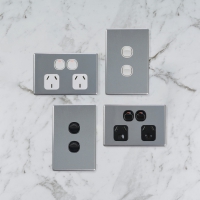 Our Hyena Insulating Shroud HYSHRW and Hyena plaster bracket HY1GMBPLR are suitable for use with the Flat Cat range.
Australia's favourite style, the Puma, is a complete family of switches and sockets featuring the full cover plate look – a style which despite introduced in the 1990's, remains extremely popular. Trader has added some new products to this range so you can offer a consistent style but service modern requirements like our USB range. You'll find one of our most popular products, the PUPP2USB2G plus the PUUSB2G and PUUSB4G (USB outlets only) or the PU4x4, providing four sockets and four USB outlets – all handling USB device charging requirements with ease! Why not suggest a shelf which fits over a Puma double power point or the dual USB power point so your customers can sit their devices on whilst charging – genius!
We know this is one of your favourites (or if this is the first time you've seen it, we know it WILL become one your favourites very quickly!) – the Puma Entertainment Plate. This new parallel wall solution means cabling remains neat and tidy, hidden in the wall panel with minimal visual clutter, which means happy customers! The unit comes populated or unpopulated for your convenience. Learn more about how the Puma range is the ultimate entertainer!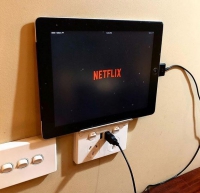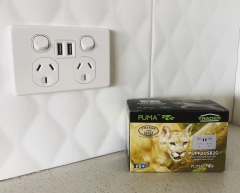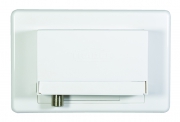 For those customers who are budget conscious, the Cougar range offers a classic style at an affordable price point. Again new additions to the range like the USB outlets and brush cable management plates, allow for modern inclusions. The Cougar and Puma ranges have a screw fastened base plate (other suppliers have moved to clip on base) and feature a unique cable securing point** which may eliminate the need for a shroud.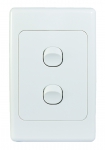 Trader's range of switches and sockets (covers, plates and dollies) are made from UV stabilised polycarbonate to avoid discolouring to yellow – a great selling point for your customers who may have experienced this happening with other brands.
There's also one other special range we should mention – Powermesh - the power point and dimmer with super powers! Simple and affordable home automation with Touch, Tap and Talk functionality, each unit comes with a Snow Leopard, Leopard and Puma cover to suit any space (plus it's fully retrofittable - no extra wires, no training courses, install a couple of switches and sockets then add more in the future). You can swap over an existing power point with a Powermesh enabled power point and pair with the Zimi app in under four minutes! Discover more at zimi.life or Have a read of our blog if you want to learn more about the capabilities of a Powermesh power point!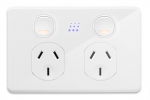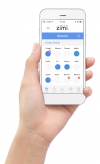 Check out our Switch and Socket Selection Guide which is a consumer friendly brochure showcasing our residential offer – download or request a hard copy now at service@gsme.com.au Complete with selection chart to ensure all requirements are captured, it is a great tool to show any customer wanting a small update, renovation or new build.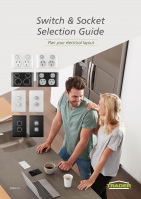 So that's actually 7 Trader ranges that you can recommend and install to your customer base. A style, colour, finish and functionality to suit every one and every space.
*All Trader switches and sockets must be installed by a licenced electrician to the current Australian Wiring Rules (AS/NZS 3000:2018).
**Cable clamp restraint point satisfies requirement of AS/NZS3000:2007 Clause 5.4.6.1.
---
Passion Flexibility Partnership
Testimonials
As the company owner I have insisted we use Clipsal from day one, as I have always opted for quality equipment. I noticed your Trader products not long ago, and reluctantly broke the habit to try a box of your Puma double GPO's. Since then I have now ordered and installed a number of your trade packs in our housing development work. I have installed your products in our high end residential jobs, including your new dimmers, and am looking forward to trying out your buffalo range with our industrial clients.
From a tradesmans point of view your products are second to none, you have fixed any minor issues your competitors still hadn't, you have listened to the market and created something we have all been asking for. Fantastic!
We have also had clients commenting on how impressive the dimmers are. I am pleased to say you have earned our business and our stock is now Trader!
I hope the feedback is welcomed, and please keep doing what you guys are doing.
Jarryd Schubach
JCS Electrical

Finally someone's prepared to take on board the needs/wants of the contractors. Trader lead the way with new design making the humble 'surface socket' easier and faster to use.
The Trader brand has been a real bonus to the electrical field. Especially, can I highlight the HYPP1GF (surface socket). These are perfect for retrofitting existing lighting where you pull out old downlights or changing over from a batten holder to downlight etc. The terminals are all in a row with a well thought insulation barrier which must be 'clicked in' before you can fit the base. Then there's the 'easy fit' base. When I say easy fit, it's easy to fit and to take off again should you need to. (hopefully no more screwdrivers through my hand trying to remove bottom plates etc). They easily fit through a normal downlight cut out, so you can work from a ladder instead of having to go in the roof, even with a few cables and cable ties attached etc. Circuit identification is becoming more and more important. Trader realise this and have added space on the front of the socket outlet to 2 – IPA labels visible even with a plug in the socket.
Thanks and well done Trader and I look forward to more great products in the future.
Gary Hill
A&G Electrical Group Pty Ltd